We're Getting Mutants in the MCU - The Loop
Play Sound
Super GT (スーパーGT Su-pa- GT) is a grand touring car race event that began in 1993. The series was originally titled as All-Japan GT Championship (全日本GT選手権 Zen-Nihon GT Senshuken) that was used from 1993 until 2004.
The event is sponsored by the GT-Association, and the series is authoried directly by French association FIA.
1993 to 2004: Zen-Nihon GT Senshuken
[
]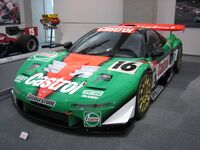 The series started in 1993, with the first race being held at Fuji International Speedway. Japanese driver Masahiko Kageyama won 3 out of 4 races, making the Japanese drivers Takao Wada and Toshio Suzuki win the third round held at Suzuka.
The 2000 season was the season where Ryo Michigami took his title without his teammates when Osamu Nakako was dropped and replaced by Hidetoshi Mitsusada during the season.
The last season under the name JGTC was in 2004, where Satoshi Motoyama took the title along with Richard Lyons. Without a single win in 2003, they took the title with only wins in the season.
2005 to 2013: Super GT
[
]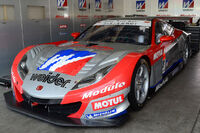 At the end of the 2004 season, the series was renamed to Super GT. The first race of the Super GT-era was in the Okayama Internatinal Circuit, with Japanese driver Manabu Orido and German driver Dominik Schwager winning the race.
The 2007 season was seen by Daisuke Ito and Ralph Firman taking the title before the final race with a total of 3 wins. But in 2012, the season was later seen by Masataka Yanagida and Ronnie Quintarelli taking their title before the final race with a total of 4 podiums.
The 2013 season was the last season of Super GT to feature JAF-GT cars in GT500, being replaced by the DTM-styled cars for the new regulations.
2014: New Regulations
[
]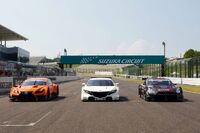 The 2014 season will be the first season to feature the DTM-styled cars in GT500. Before the 42nd International Pokka Sapporo 1000 km, Japan Automobile Federation unveiled the new cars with a DTM-styled bodykit for 2014: the Honda NSX Concept-GT, Lexus RC-F GT and the Nissan GT-R R35 with a DTM-style bodykit.
There cars was tested in some several circuits; Suzuka Circuit, Fuji, SUGO, Motegi, Okayama and in Sepang. These cars have not been tested in Autopolis yet.
They used a wider wing at some Fuji tests before the season started.
Complete list of cars
[
]
GT500 Class
[
]
GT300 Class
[
]
Race Cars
Maker
Vehicle
Standard class
Notes

Nissan

GT-R NISMO GT3
FIA-GT3 (2012-present)
Currently partipicates

Fairlady Z

JAF-GT (2005-2010)
Withdrew after 2010

Lexus

IS350

JAF-GT (2008 Rd.3-2012)
Supposed to withdraw after 2011, but came back in 2012 on the fourth round

Toyota

Toyota Celica

JAF-GT (2005-2008 Rd.2)
Withdrew and changed to the Lexus IS350.

Prius GT

JAF-GT (2012-present)
Currently partipicates

Corolla Axio GT

JAF-GT (2009-2011)
Changes to the hybrid-running Toyota Prius.

MR-S

JAF-GT (2005-2008)
Changes to the Corolla Axio

Honda

CR-Z GT

JAF-GT (2012 Rd.4-)
Currently partipicates
NSX-GT
JAF-GT (2005-2006)
Withdrew after 2006

Subaru

BRZ GT

JAF-GT (2012-present)
Currently partipicates

Legacy B4

JAF-GT (2009 Rd.6-2011)
Changes to the hybrid-running Subaru BRZ

Impreza (GD)

JAF-GT (2005-2008)
Withdrew after 2008

Mazda

RX-7

JAF-GT (2005-2010)
Withdrew after 2010

Porsche

911 GT3 RSR

FIA-GT2 (996: 2005-2010)

FIA-GT2 (997: 2009-2011)

Porsche 996 partipicated in 2005, and Porsche 997 partipicated in 2009, both withdrew. The 996 model was in treatment of partipicating in 2011.

911 GT3 RS

FIA-GT2 (996: 2005-2010)

JAF-GT (996: 2006-2011)

FIA-GT2 (997: 2007-2008)

The FIA-GT2 model of the Porsche 996 partipicated in 2005 and the JAF-GT model did in 2006, and Porsche 997 partipicated in 2007, both withdrew. The 996 model was in treatment of partipicating in 2011.

911 GT3 R

FIA-GT2 (996:2005-2009)

FIA-GT3 (997:2010 Rd.5-)

The 996 model was in treatment of partipicating in 2010, but succeeded by the Porsche 997

911 GT3 Cup

JAF-GT (2005-2007)
Partipicated with the 996 model, withdrew after 2007

Boxster

JAF-GT (2005-2010)
Partipicated with the 986 model, withdrew after 2010

968

JAF-GT (2005)
Only partipicant

Lamborghini

Gallardo FL2

FIA-GT3 (2013-present)
Currently partipicates

Gallardo LP600+ GT3

FIA-GT3 (2012-present)
Currently partipicates

Gallardo RG-3

FIA-GT3 (2007-2012)
Retirement, JAF-GT treatment on classification

Murciélago RG-1

JAF-GT (2005-2009)
Withdrew after 2009

Aston Martin

V12 Vantage GT3

FIA-GT3 (2012 Rd.2-)
Currently partipicates

V8 Vantage GT2

FIA-GT2 (2010-2012 Rd.1)
Served until Round 2 of 2012

Ferrari

458 GT2

LM-GTE (2011)
Withdrew, JAF-GT treatment on classification

458 GT3

FIA-GT3 (2012-2013 Rd.3)
Withdrew after Round 3

F430

JAF-GT (2008-2009)
Withdrew after 2009

F430GTC

FIA-GT2 (2009-2012)
With the regulation changes, the partipication with the car was impossible for 2013

360 Modena

JAF-GT (2005-2007,2009)
Withdrew after 2009

ASL

Garaiya

JAF-GT (2005,2007-2012)
With the regulation changes, the partipication with the car was impossible for 2013

Chevrolet

Corvette

JAF-GT (2005,2008)
Partipicated with the C6 model, withdrew

Corvette Z06.R GT3

FIA-GT3 (2011-2013)
Partipicates with the C6 model, might partipicate in 2014

Vemac

Vemac RD320R

JAF-GT (2005-2009,2011)
Withdrawal, used until 2011

Vemac RD350R

JAF-GT (2005-2008,2010 Rd.6-2012)
With the regulation changes, the partipication with the car was impossible for 2013

Vemac RD408R

JAF-GT (2006-2008, 2010)
Withdrawal, but used with the RD320R and Rd350R until 2012

McLaren

MP4-12C GT3

FIA-GT3 (2013-present)
Currently partipicates

Mooncraft

Shiden

JAF-GT (2006-2012)
Retired after 2012

BMW

Z4 GT3

FIA-GT3 (2011-present)
E89 model of the car, currently partipicates

Z4 M Coupé

JAF-GT (2008 Rd.9-2009)
Partipicated with the E86 model, withdrew after 2009

Audi

R8 LMS Ultra

FIA-GT3 (2012-present)
Updated model of the Audi R8 LMS

R8 LMS

FIA-GT3 (2012)
Changed to the Audi R8 LMS ultra after 2012

Mercedes-Benz

SLS AMG GT3

FIA-GT3 (2012-present)
Currently partipicates

Ford

GT

JAF-GT (2006-2007)
Withdrew after 2007
Mosler

MT900R

JAF-GT (2005-2007)
Withdrew after 2007

MT900 GT3

FIA-GT3 (2009 Rd.4)
Spot partipicant

MT900M

JAF-GT (2010-2011,2012 Rd.3)
Withdrew from 2012, but came as a spot partipicant in Sepang

Lotus

Exige

JAF-GT (2005 Rd.3)
Spot partipicant
References
[
]